After years of doing nothing much in the way of Christmas lights I have decided to do a high tech display. I know it's early to be talking about Christmas lights, but since this was my first time with this sort of thing I wanted to give myself plenty of time. The idea was to create a grid of lights that can be individually programmed so I can have an ever changing array of effects. Here is a picture of part of my grid that I set up for testing.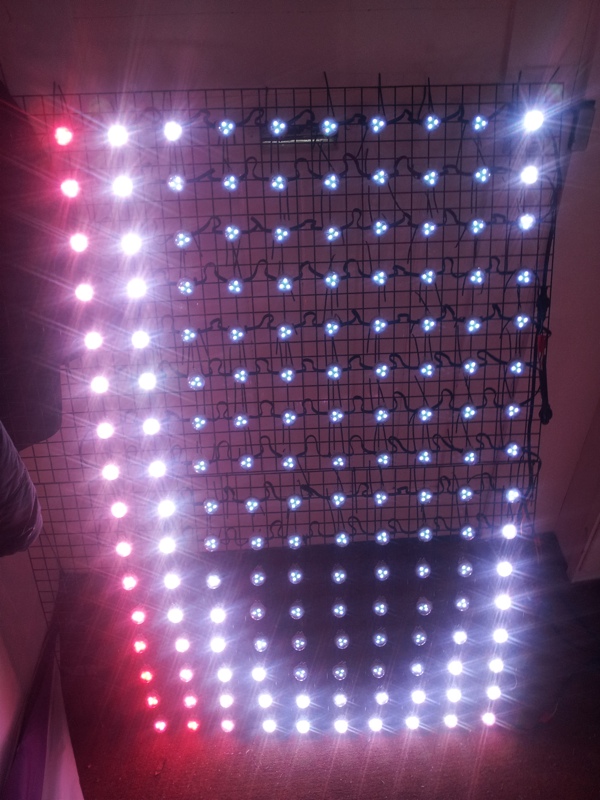 The technology behind this is quite fascinating. Each light fixture has 3 groups of red green and blue led lights, that's nine leds in each fixture. You can see the 3 groups of leds in this picture.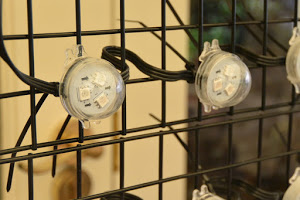 I have set up 4 panels of these lights each with 80 light fixtures per panel making a total of 320 lights. Before you ask, it's never enough. What's cool about them though is how they are controlled. There are only 3 wires that run from the beginning of the panel right the way through to the end of the panel. Two of the wires are used to supply power and the other one carries the data that tells the lights what intensity to set the Red Green and Blue lights to. So, each light fixture needs a bit of smarts to be able to pick up that data signal and interpret it. See the tiny chip on the back of the light fixture in this pic.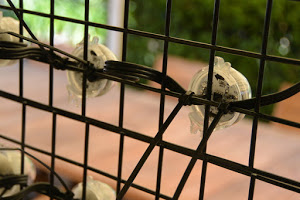 All of these lights then connect to a special controller that hooks the lights up to my network and allows me to control them by software. In this case, I have used the fantastic E6804 board from Sandevices.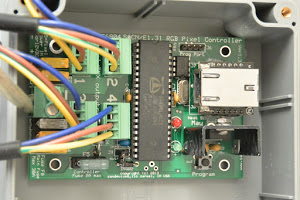 The final grid of 320 lights is temporarily hanging from some rope in my back yard for testing.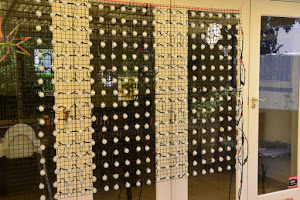 Then, the biggest challenge has been selecting software for the project. There are a number of different solutions for controlling christmas lights, but so many of them were quite disorganised and had very limited flexibility. After visiting Floriade Nightfest this year I was inspired by the mesmerising lights on the lake and wanted to have something similar for my display
None of the software I had found was giving me the flexibility I needed until I found PixelController software by PIXELInvaders. The software is primarily used for nightclub displays but I could see Christmas potential too. It has awesome built in effects and flexibility to program your own effects using a simple programming language. Exactly what I need. I will write a blog post about some of the effects I will make for our christmas display as I build them.
Of course my kids are totally excited about the display so when I shot the video of the display running you can hear background noise of my 3 year old so excited that his shoes had been lit up by the display. Then he rides his scooter across the front of the display so you can see his head scooting past. My 7 year old daughter was dynamically controlling the whole display with the PixelController software while I took the video. Hope you enjoy it as much as we did.
Update : If you'd like to see how the final show ended up , you can check it out in Christmas Lights Show 2013.